Designed by Fé Remakers
What is the problem?
 Due to the growing world population and climate crisis, we lack sufficient housing and nature needs to be preserved. Therefore, we need to transform our living spaces in order to preserve nature and fulfill our shared needs, creating a sense of social responsibility and accountability. 
Small houses that destiny the city
The Unselfish Cabins are small houses that improve the city while adding a network of functions to their environment. They offer solutions for urban challenges, like water, biodiversity, safety, social cohesion, and food production, enhancing the role of houses in the city's ecosystem.
Why is it cool?
This concept densifies the city while adding a network of sustainable and innovative functions enhancing the surroundings.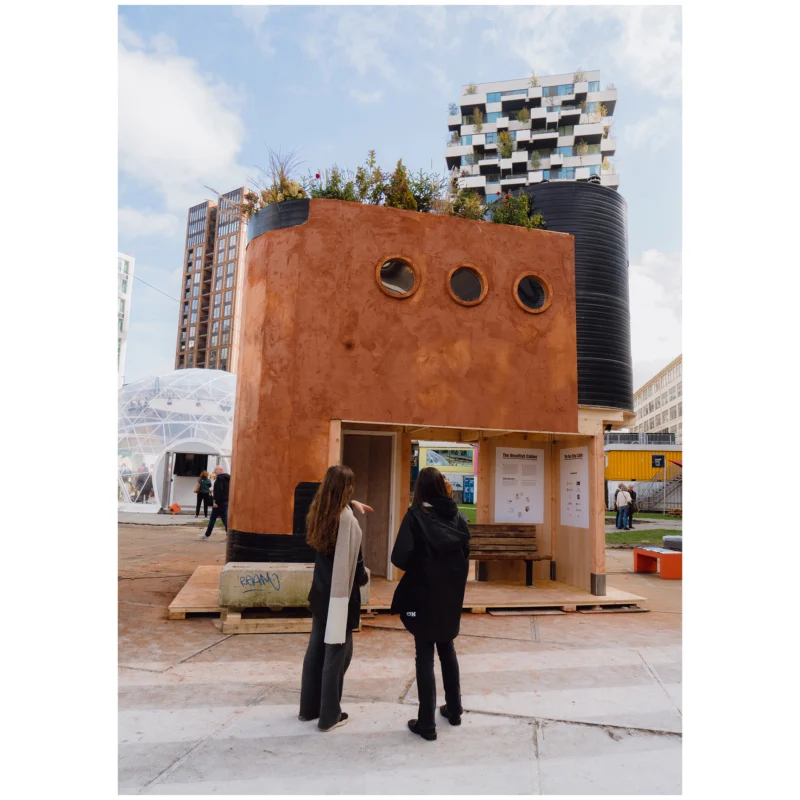 As an example, the Bus Stop Cabin is situated on top of an existing bus stop, barely occupying any extra space in the city. Rising high, the Cabin will oversee the whole street. By emphasizing the presence of a person and, therefore, the chance of being watched, crime is less likely to happen. What is more, the feeling of safety increases. Light from the Cabin will make the street safely lit.
Moreover there are other cabins. Accordingly, the Water Capturing one, collects water during heavy rains and release it in dry periods. Also, the Public Waste Cabin offers an organic waste container and a public toilet, with which it gathers resources to turn them into energy and compost. The Animal Crossing Cabin bridges small roads and paths, reconnecting fragmented pieces of nature and increasing biodiversity.
Why is has future growth potential?
The Unselfish Cabins are an innovation providing us with a brand new housing typology that encourages us to reimagine the role of houses in the city's ecosystem. It shows a way how you can reinvent living spaces to provide a positive influence on your community. It illustrates how people take social responsibility and accountability for their cities and offers a great solution to some of our greatest emerging problems.