WHAT IT IS?
It's a struggle for parents. How do I get my children to eat more vegetables? We all know eating vegetables is good for our health but after the numerous tantrums at the dinner table, parents stop trying and give in with the mac and (mostly) cheese. Parents, you can let your children eat more vegetables. The new app "Happy Plate" from Foodpairing and STOP (Science and Technology in childhood Obesity Policy) can help you plan and cook easy vegetable-rich recipes for picky eaters. So how will that work? Well, with flavor IDs. Every family member has their own flavor ID with their favorite types of flavors. The algorithm that Foodpairing uses is capable to extract what the molecules are that drive the liking of each family member, even the picky eaters. And by combining all those flavor IDs, the app can suggest recipes that everyone in the family likes!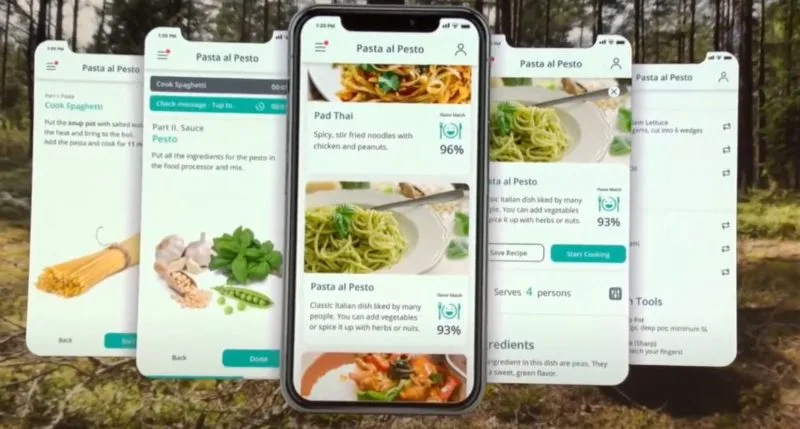 WHY IT'S COOL?
Personalized flavor IDs for each family member.
Make classic, easy and well-known recipes such as pasta pesto, but then with a pesto with 3 hidden vegetables!
Step by step explanation of the recipes to help parents with preparing the dish (even with a timer for the pasta!).
When a vegetable is not in season or is unavailable, the technology of the app also shows you a new vegetable with the same flavor notes that you can use.
No more fussing at the dinner table (do we need to say more?).
Curious and want to make your own flavor ID? Go to https://my.flavor.id/signup and find out for free what your personalized flavor id is.
WHY IT HAS FUTURE GROWTH POTENTIAL?
What's also hidden is the global issue that we face, child obesity. The number of children with obesity is growing every day. Using the technology of the personalized flavoring, this problem can be tackled. The personal flavor recommendations increase the vegetable intake among children and make healthy cooking easier for parents at home. When we globally apply this technology in our everyday life, child obesity can decrease. The only problem is that this app is still in the prototype phase and is more focused on wealthier countries where food supply is taken for granted. And when we look at the places where childhood obesity increases, these are the places where people live below the poverty line.
Sources:
https://www.eatingthegap.foodpairing.com/
https://www.who.int/news-room/fact-sheets/detail/obesity-and-overweight
https://happyplate.foodpairing.com/